There are some things in life that are simply irreplaceable. It might be that the vase that's been in the family for generations is accidently knocked off the mantelpiece. It could even be the loss of a ring that once belonged to a great, great grandmother. Although you know these objects can't be replaced, the memories that come with them may leave you wanting something similar.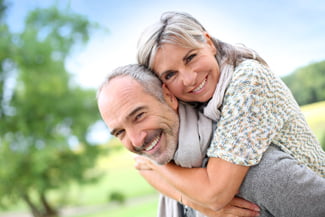 In the same way, losing your teeth can be a difficult to deal with. It's hard to imagine replacing the same smile you had before tooth loss, but with dental implants in Southampton, your teeth will be replaced and your smile can be restored.
Deciding what is right for you
At Expert Implants, you can book a consultation so we can explain the procedure to you in detail. It's an opportunity for you to ask any questions about dental implants in Southampton and opt for sedation if you are feeling especially nervous. Before your treatment begins, one of our friendly and experienced dentists will look at your teeth, examine your medical history and decide if this particular treatment is right for you.
Losing several of your teeth shouldn't stop you from smiling or laughing. In Southampton, dental implants are used to replace anything from a single tooth to all of your teeth. The implant is a small titanium screw, which is placed into the jawbone. This screw is similar to the root of a tooth and once it has fused with the jawbone, it secures a natural-looking replacement. If you are missing several of your teeth, you can get multiple implants. Dental implant bridges cover the loss of two or more teeth, even a whole jaw. Because the bridge is sturdy, it means having to receive fewer implants.
Smiles and laughter
If you happen to have experienced tooth loss, we at Enhance Dental have can reassure you that all is not lost. By filling in the gaps, you would be enhancing the appearance of your smile and improve your oral health for the foreseeable future. It means you no longer have to worry about eating certain foods when you go out for dinner or hiding your teeth when you laugh at your friends' jokes.