It's a well-known fact of life that, as we get older, our teeth deteriorate. They become prone to problems such as tooth loss from long years of actions like grinding and chewing. It is common, and not really surprising, that many elderly people end up wearing dentures to replace missing teeth.
There are alternatives to dentures and many of these provide a more efficient and durable solution. At Expert Implants in Southampton, dental implants are becoming a popular choice. Dental implants are an alternative that can restore a beautiful smile, even during the later stages of life.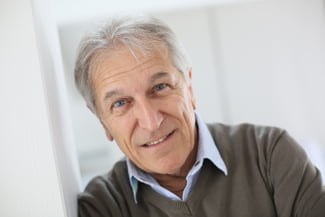 What's wrong with traditional dentures?
Dentures are a traditional solution and they are a widely recognised option for tooth replacement. However, they have their fair share of drawbacks. They can become loose over time as the wearer's jawbone inevitably shrinks due to underuse and lack of stimulation from teeth.
Loose dentures lead to other issues such as trapped food and debris, sore gums and an insecure feeling of slippage while talking. This means that simply daily pleasures and functions such as eating and laughing become difficult.
Aside from these issues, dentures often lack the quality and feel of real teeth that are fixed into your mouth. For patients in Southampton, dental implants are usually a great alternative to dentures.
Why are dental Implants great for elderly people?
Dental implants have been designed to enhance your life. There is no need for tooth replacement options to be uncomfortable or to limit your enjoyment of daily living.
Dental implants in Southampton from Expert Implants allow you to enjoy your lifestyle as normal. You can experience a full set of teeth for chewing, and flash a lovely smile for many years to come.
Dental implants work well for people, regardless of age. They are simply the closest thing you can get to natural looking and feeling teeth, no matter what your age. Elderly patients are able to heal and recover in just the same way as younger patients. As long as you are healthy and don't have gum disease or any other underlying health condition, dental implantation should be successful.