Tooth loss can be a very stressful experience for many reasons. Missing teeth can create unattractive gaps in your smile and even lead to bone loss and further tooth loss. Luckily, nowadays there are many options available for replacing missing teeth. Dental implants are the most reliable treatment available today.
At Expert Implants, we share your aspirations to restore your smile and oral function and for this reason we use Southampton dental implants. Whether you need to replace one missing tooth or require a full arch replacement, Southampton dental implants will properly secure your teeth and prevent bone loss.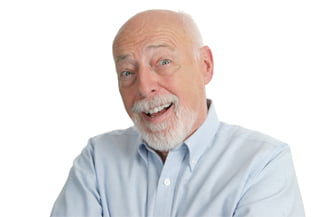 Why does bone loss matter?
When your jawbone is strong and healthy, your teeth are secure and in place. Tooth loss and subsequent jawbone deterioration, reduces the available bone and even your healthy teeth will become less secure.
The jaw needs stimulation to function properly and this stimulation is provided by biting and chewing, with the vibrations sent down your tooth roots. When tooth roots are missing, then that stimulation stops and the jawbone gradually shrinks. Your healthy teeth will then start moving into the gaps created by the missing teeth and further tooth loss can occur. If you opt for Southampton dental implants, the metal posts that will be inserted into your jawbone, will function just like tooth roots, restoring stimulation between the roots and the jawbone and preventing jawbone loss.
Dental implants and bone loss
Patients with bone loss can still receive dental implants, even if their jawbone has deteriorated considerably. Bone grafting is a common procedure, but in recent years, alternative implant techniques have been developed for patients with bone loss such as All-on-4. Your dentist will examine your teeth thoroughly, take x-rays of your jawbone and help you decide which implant procedure is ideal for your individual situation.
Finding the right dentist
Undergoing implant surgery with bone loss can be tricky, therefore finding the right dentist to perform this procedure should be a priority. At Expert Implants, we have an established expertise in dental implants and we are happy to discuss your tooth replacement needs. To schedule your appointment, call our friendly team today.